A Vagabond for Beauty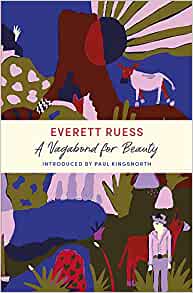 Why a Booktrail?
1934: Everett Ruess left home at the age of 16 to explore Navajo country…and never came home…
What you need to know before your trail
Artist and wanderer Everett Ruess left home at the age of sixteen to immerse himself in the harsh desert landscapes of the American Southwest. With only his donkeys for company, driven by an insatiable longing for beauty and experience, he ventured ever further from civilisation and into the wilderness of Navajo country.
In 1934, at the age of twenty, he vanished without trace in Utah, a disappearance that remains unsolved to this day. Through letters, diary excerpts and poems – charting not only his rugged adventures and his exquisite nature writing but his progression as a writer, and into adulthood – and with commentary by W. L. Rusho, A Vagabond for Beauty tells his remarkable story.
Travel Guide

The true story of the missing Everett Ruess in Utah
On November 20, 1934, Ruess set out alone into the Utah desert, taking two burros as pack animals. He was never seen again.
Earlier in 1934, Ruess had told his parents he would be out of touch with the world for nearly two months. However, a few months after that since they had not heard from him, they decided to form a search party. Ruess' burros were found near the north side of Davis Gulch, a canyon of the Escalante River. The only sign of Ruess himself was a corral he had made at his campsite in Davis Gulch
Some believe Ruess may have fallen off a cliff or drowned in a flash flood; others suspected he had been murdered. The truth has never been found.
Everett Ruess was a young artist and wanderer who disappeared in the canyonlands of Utah at the age of only twenty, leaving behind extensive letters, diary excerpts and artworks that tell the story of his travels in the wilderness. His fate remains unknown.
W.L. Rusho (1928-2011) was a film producer and federal government employee who lived and worked in Utah, where he became fascinated with the story of Everett Ruess. He published a number of books about Ruess's life and mysterious disappearance.
BookTrail Boarding Pass: A Vagabond for Beauty
Destination: Navajo country, Utah Author/guide: Everett Ruess  Departure Time: 1934
Back to Results