A Slow Fire Burning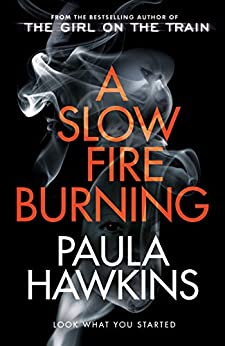 Why a Booktrail?
2000s: Everyone is damaged to some degree. Some damaged enough to kill……
What you need to know before your trail
Laura has spent most of her life being judged. She's seen as hot-tempered, troubled, a loner. Some even call her dangerous.
Miriam knows that just because Laura is witnessed leaving the scene of a horrific murder with blood on her clothes, that doesn't mean she's a killer. Bitter experience has taught her how easy it is to get caught in the wrong place at the wrong time.
Carla is reeling from the brutal murder of her nephew. She trusts no one: good people are capable of terrible deeds. But how far will she go to find peace?
Innocent or guilty, everyone is damaged. Some are damaged enough to kill.
Travel Guide
BookTrailing along Regent's Canal with Paula Hawkins
The entire Regent's Canal gets a starring role in this novel. From one end where the characters Laura and Irene live to the other where you can visit the Books on a Boat barge.
Starting from the Danbury Bridge, if you walk to Theo's house, it's not far once you have visited here, to attend Carla's residence in hope of seeing her. A short walk to the Whitmore Bridge and you get to see Miriam and Daniel's boats as they are moored here. Imagine living on a boat!
Now, it might seem like a walk to the Cat and Mutton Bridge, but there's an entire barge of books waiting so …….
Booktrailer Review
I am on the fence about this novel. On the one hand, it was complex and compelling, but on the other it was overly complicated and flat. No characters to like either and there was so many of them, it was confusing as to who was who, their relations to each other and their part in the story.

Nevertheless, the story starts of well with a murder on a houseboat. As the other characters are introduced their proximity to the murder scene, relationship to the murdered man, and their possible involvement in the case is examined. There's backstories and weaving tales that link them together with one other character or aspect of the case. The novel is constructed in a series of threads and flashbacks but although compelling to some, I found this very confusing and overly complicated. A good story muddied by artistic experiments. Ulimtaly I found the number and naure of the story threads so varied and diverse that for me they diluted the main story in the novel. One character is even writing a novel based on some of the characters and has made up some more stories, or twisted those in the novel. Not to confuse matters further….

The setting and atmosphere of the novel was the main draw for me and I did find the houseboat community fresh and interesting to read bout. The murderer in their midst equally compelling. However, the twists and meanders of the journey there were too distracting for me. One character writing a book even comments on the fact that no one tells a story in a straight forward way anymore. Not sure if this was the author having a laugh and being ironic or, well I'm not sure.

For me, I'm afraid the slow fire burning was just too slow and there was no burn just a smoldering before the fire went out.
BookTrail Boarding Pass: A Slow Fire Burning
Destination/location: London  Author/guide: Paula Hawkins Departure Time: 2000s
Back to Results