Faithless
Why a Booktrail?
2000s: Oslo detectives Gunnarstranda and Frølich are back and this time, it's personal…
What you need to know before your trail
Inspector Frank Frølich is shocked to discover that the body of a woman has turned up in a rubbish bin, scalded and wrapped in plastic.He's even more shocked and chilled to the bone when he realises that he knows here and that worse still, their recent meetings may hold the clue to her murder.
He begins to look deeper into the tragic events surrounding her death when Frølich's colleague Gunnarstranda finds another body, and things take a more sinister turn.
With a cold case involving the murder of a young girl in northern Norway casting a shadow, and an unsettling number of coincidences clouding the plot, Frølich is forced to look into his own past to find the answers – and the killer – before he strikes again.
Travel Guide
Oslo University
The African students was supposed to be studying here having arrived from the city airport.
Eismarka
The party where Frølich is going is just outside Olso in a place called Eismarka, and he doesn't want to go. Even the taxi from Oslo station seems to be a difficult to him. The party is not a surprise one but who Frølich  meets  and what he finds out definitely is a surprise!
Baerum
The west coast of the city where Veronika now lives
Hovik
Janne lives here and there is a kind of moment which takes place in a taxi. It's a nice suburb to the west of the city and the beaches here get really crowded in summer. There's a nice church to visit and the area in general is nice to visit for the people of nearby Bærum as well as elsewhere of course.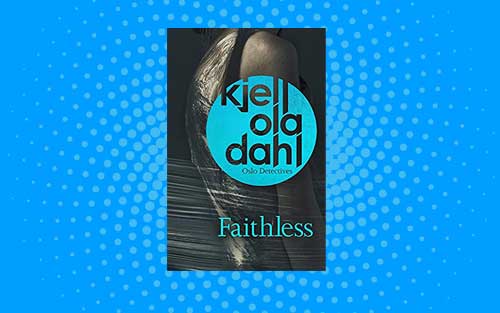 Booktrailer Review
Susan:

I do love a good slice of Nordic Noir and this was a nice meaty feast from start to finish.  A good elk pie – a nice crust with a good hearty filling which the more you chewed the more flavour it revealed.
Why am  I describing it like  a pie? Well it looks set to be Nordic style investigation from the start but as you read, what lies beneath becomes all the more meaty and exciting.
Enough about pies though – this was a unique police procedural and thriller which was slow paced but had enough tension and mystery to keep things moving nicely. I liked getting to know Frølich. Well he's a grumpy old thing isn't he? Doesn't want to go to a 40th birthday party from someone he's lost touch with but well when he gets there, he finds out a lot more than he bargained for!
An African student in Norway has gone missing and the search is on – the visit to  shady characters in the backs of cars on Oslo streets, the cold cases….well everything stacks up and the case starts to weave the various strands together very nicely indeed.
I am definitely on the case with the next Frølich and Gunnarstranda- there's a lot to like and a lot to get your teeth in to. A bit like a meaty feast of a pie when you think about it. Satisfying. But leaves you looking forward to the next serving. Really enjoyed getting my teeth in to this one.
Booktrail Boarding Pass: Faithless
Author/Guide: Kjell Ola Dahl  Destination: Oslo  Departure Time: 2000s
Back to Results